Optimism and Stick-to-it-ive-ness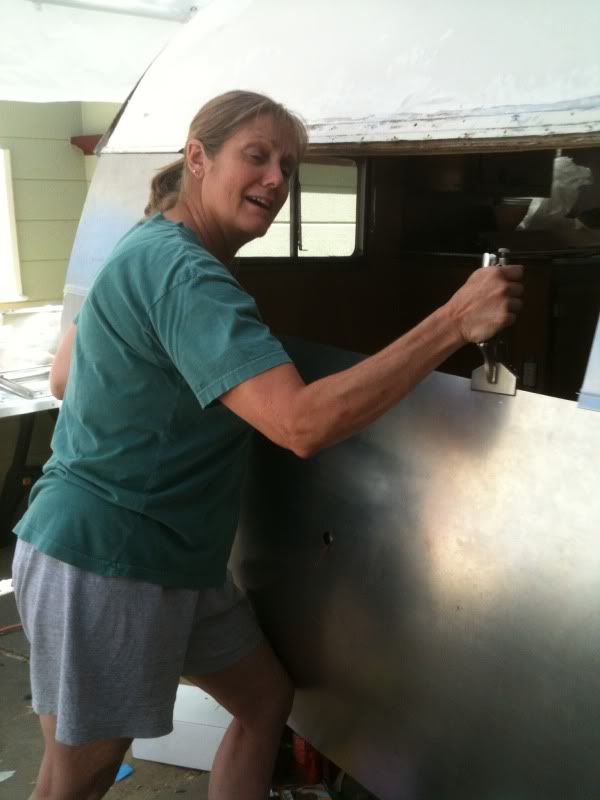 My friend Anne applying
a little umph to get the skin in the track
Optimism and Stick-to-it-ive-ness is a deadly weapon to time schedules. I think that Shasta restorers must have both. That and loved ones who have deep reservoirs of patience and understanding for missed deadlines.
All said, we are looking at being probably 2 weeks behind our latest revised departure date (June 14) and I am trying to inject some realism and take pride in the bits that get accomplished each day and let go of those things that seem out of my control. Can someone come up with a Shasta Serenity prayer?
Enough philosphizing...much progress to report. A couple of days ago my friend Anne and I finished adding the skin and started putting in windows, till I ran out of butyl tape
Aquadream has her skin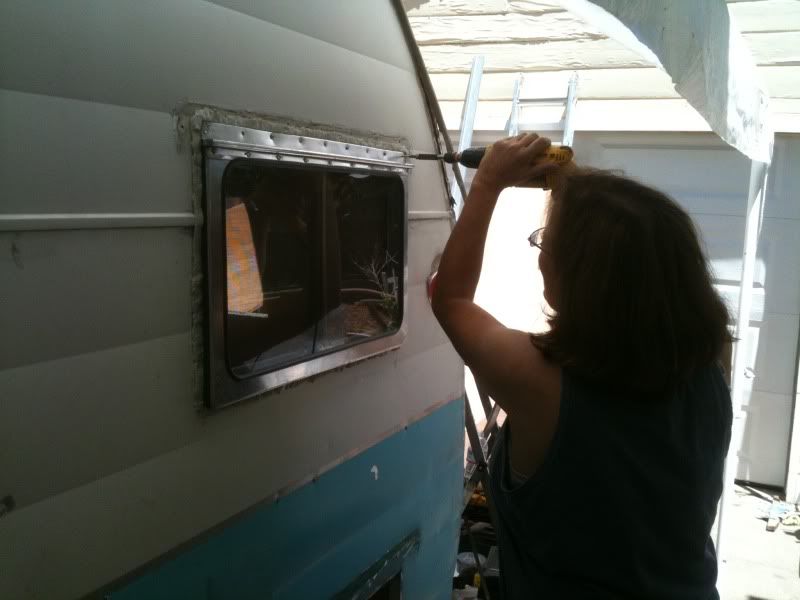 Me putting in the first window!
Yesterday was full of highs and lows.
First the high...and I was so excited I forgot to document it....wait for it....
WE TOWED AQUADREAM OUT OF THE DRIVEWAY
for the first time since she came home! Albeit just 10 miles to the trailer place but still a real milestone! there she will get her electrical finished and figured out, and a new trailer jack put in.
Went home to an empty driveway-- and an empty nest feeling overtook me. Though there is quite a mess to clean up. And still of course plenty to do.
I was envisioning a day of packing and planning and cleaning the house for our housesitters after taking my son Ben to the skate park. Phone rings 10 minutes after I've dropped him off, come get me I crashed and am hurt. Long story short, chin needed to be glued, but also spent the rest of the afternoon getting xrays etc... and learned that he's broken his arm at the elbow. Have to wait til today to see how this impacts our trip and his bid in the whitewater junior olympics.
Once I get her back later today (I hope) the plans for today and the weekend include--
dinette window
cargo doors..one of which I may seal shut.
build bed.
maybe if lucky stain
maybe maybe if everything goes right....paint. Or at least buy paint....I'm thinking this may be one of the on the road projects (am I crazy).